If you haven't noticed me talking about it EVERYWHERE, this week is Tu Books' Friends & Family sale! We're offering some pretty amazing discounts on our books—in particular, Cat Girl's Day Off by Kimberly Pauley and Vodnik by Bryce Moore are only $1.99 in e-book format! And all our paper books are on sale for 35% off plus free US shipping. See the sale announcement for more details.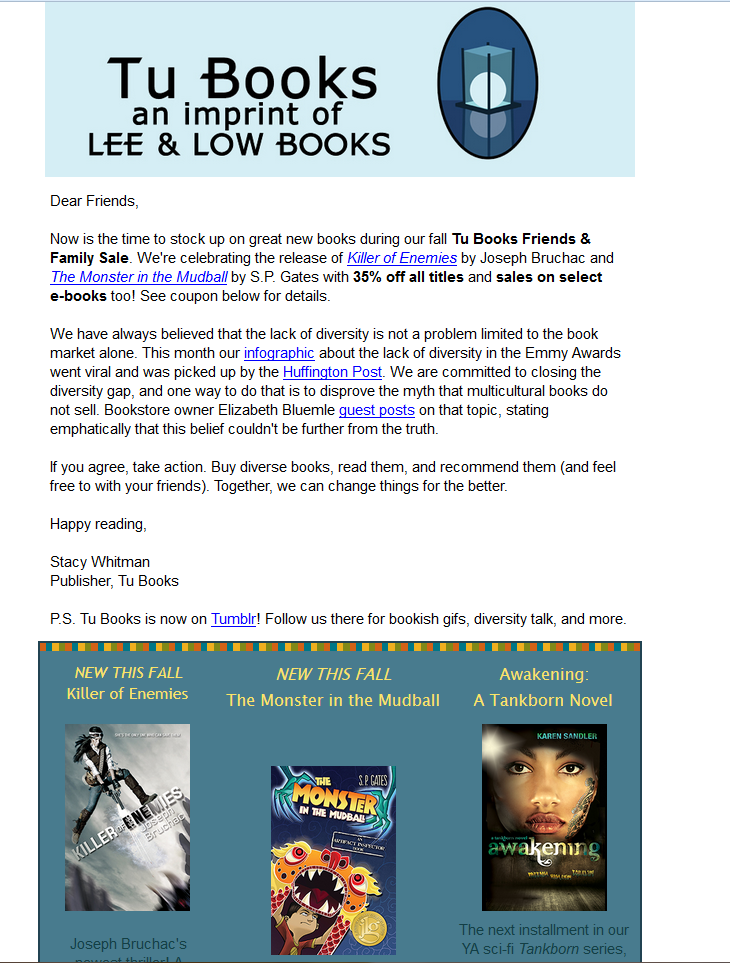 There's not much time left, so hurry and take advantage of the sale while it's still available!
And please share this link on with any friends or family who you think might be interested. Books depend on word of mouth to succeed, and no books more so than those published by small presses. If you believe diversity in books for young readers is important, or you just plain think we're publishing awesome books, please spread the word!
For those who have already bought/read the books, please consider reviewing the books on Amazon or requesting the book at your local library if it isn't carried there. Here are a few more things you can do, too.
If you're not really sure what you should pick to read, though, I have put together a handy guide, according to interests and mood. Find your next weekend read here!
For older readers (young adult and adult):
If you're looking for comedy, or you're a fan of Ferris Bueller's Day Off, or you love cats, or you have always wondered what your superpower would be, read Cat Girl's Day Off—Kimberly Pauley's love story to Chicago, John Hughes, and snarky cats who talk. Not to mention mystery (kidnapping of a celebrity blogger, murder plots) and adventure (literal cat herding).
If you love rich worldbuilding, inspiration from less-well-known fairy and folk tales, sympathetic characters, and complicated, dark humor,  read Vodnik—about a teen trying to avoid being drowned by a creature out of Slovak tales to capture his soul and put it in a teacup. Oh, and having to make a deal with Slovakia's goddess of death to accomplish it.
If you're looking for a (literal) kick-butt superheroine in a post-apocalyptic world, defending her family from despotic rulers and making the world safe for humankind, read Killer of Enemies—postapocalyptic Apache steampunk.
If you like dystopian tales with strong science fiction and human rights issues elements, read Tankborn and its sequel Awakening—hard science fiction with a romantic subplot set in a strict caste system in which "non-humans" are at the bottom rung.
Love books about reinterpreting old stories anew? Looking for a complicated father-son relationship, or love stories about genies and monsters and golem? Or a magical coming-of-age set in a rich historical time period? Read Hammer of Witches. Also the perfect classroom tie-in to a unit studying the events of 1492, particularly Columbus's first journey westward, and particularly for reluctant readers who might need a "fun" story to get them into the history.
Read Summer of the Mariposas if you're looking for a strong sisterhood story with no romance, a Mexican American retelling of The Odyssey, or a book that can best be described as Sisterhood of the Traveling Pants meets Weekend at Bernie's. This is a great gentle read for your advanced older middle grade readers and young teens looking for a clean read, as well as a great classroom tie-in to an Odyssey unit.
Wolf Mark is great for readers who love paranormal romance and science fiction. It's best described as Burn Notice with werewolves—Abenaki skinwalkers, actually, written by one of the best Native American writers working today.
Diverse Energies is a collection of 11 dystopian stories that all star people of color—if you're looking for where the people of color are in the future, here's one collection of tales exploring that lack elsewhere. Stories from Malinda Lo, Cindy Pon (both of Diversity in YA here on Tumblr), Paolo Bacigalupi, Ursula K. Le Guin, and more.
For younger readers (ages 8-12), we also have a couple of fun books: The Monster in the Mudball and Galaxy Games: The Challengers.
Monster in the Mudball is the perfect first "real" middle-grade novel for your readers who have just graduated from chapter books, and it makes a great read-aloud as well. I like to think of it as Warehouse 13 for kids–an artifact inspector comes to town, and Jin, our main character, has to help her find the monster that hatched from the artifact before it eats Jin's baby brother!
Galaxy Games: The Challengers is a hilarious romp of a book that basically involves the Olympics in space. Aliens come to Earth to recruit Earth kids for the biggest sporting event in the galaxy—and our hero is mistaken for the best kid athlete on Earth because he got a star named after him for his birthday.