ETA 5/22/12: I'm keeping this book list up to date on Pinterest nowadays, linking each book to its Goodreads entry. It's much easier to just pin a book than to keep this list up to date. For the running lists (broken down by age group and genre) and more, go here (sorry, the link was broken for a while there):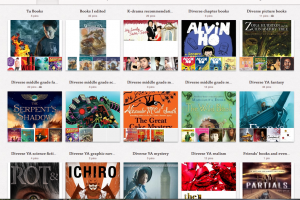 ETA: I've finally gotten the ability to edit the post back, so I've put as many of the suggested books into the list now as I can. Suggestions always still welcome. This is a continuous project.
I've gotten a lot of great suggestions to add to the list, but my website seems to still be broken, and my own computer has a dead motherboard (well, it did when I started writing this last week—thankfully, it's now fixed). I'm still figuring out why WordPress won't let me edit any of my old content.
So, in the interest of having one place that people can use as a resource, I'm going to copy everything into this entry. Rather than divide the list by what I've read and what I haven't, which was just more a personal exercise last year in wondering whether my own reading habits had reached past my own culture, I'll divide the list by age group and genre (fantasy/SF). What that means is that I am not making a comment on how good I think a book is or recommending it/not recommending it—there are several books on this list I haven't had a chance to read yet. It's simply a list compiling what's out there. I've also added books that I've discovered over the last year or that have been suggested to me in the comments. Go to the previous booklist post for comments on some of the books in this list.
Middle Grade Fantasy
Where the Mountain Meets the Moon, 2009, Grace Lin
Moribito: Guardian of the Spirit, 2008, Nahoko Uehashi, and its sequel, Moribito II
City of Fire, Laurence Yep
The Tiger's Apprentice, Laurence Yep
Dragon of the Lost Sea, Laurence Yep (and pretty much anything else written by Laurence Yep)
Zahrah the Windseeker, Nnedi Okorafor-Mbachu
Chronus Chronicles, Anne Ursu (someone mentioned this and I haven't read them—are the main characters people of color or is it set in a non-Western culture? from its Amazon listing, it seems to star a white girl and use Greek mythology, which are great, but don't fit the definition we're using here)
The Red Pyramid, Rick Riordan
Sword and Wandering Warrior, Da Chen
The Conch Bearer, Chitra B. Divakaruni
Circle of Magic quartet, Tamora Pierce
Circle Opens series, Tamora Pierce
Pendragon series (?)
Un Lun Dun, China Mieville
Lavender-Green Magic, by Andre Norton
Dragon Keeper and Garden of the Purple Dragon, Carole Wilkinson
Moonshadow: Rise of the Ninja, Simon Higgins
The Magical Misadventures of Prunella Bogthistle, Deva Fagan
Magic Carpet, Scott Christian Sava
Marvelous World #01: The Marvelous Effect, Troy Cle
Ninth Ward, Jewel Parker Rhodes
Middle Grade Science Fiction
The Animorphs series
The True Meaning of Smekday, Adam Rex
Young Adult Fantasy
Wildwood Dancing, Juliet Marillier
Book of a Thousand Days, Shannon Hale
Flora Segunda, Isabeau S. Wilce, and its sequel Flora's Dare
Little Sister, Kara Dalkey, and a sequel for which I've forgotten the name
Magic or Madness, and its sequels, Justine Larbalestier
Eternal, Cynthia Leitich Smith
Tantalize, Cynthia Leitich Smith
Tantalize: Kieren's Story, Cynthia Leitich Smith
Sucks to Be Me, Kimberly Pauley
Silver Phoenix, Cindy Pon
How to Ditch Your Fairy, Justine Larbalestier
Guardian of the Dead, Karen Healey
A Wish after Midnight, Zetta Elliott
The Black Canary, Jane Louise Curry
The Secrets of Jin-Shei, Alma Alexander (older YA and up)
The Worldweavers Trilogy, Alma Alexander
The Will of the Empress, Tamora Pierce and its sequels
Libyrinth, Pearl North
Across the Nightingale Floor and its sequels, Lian Hearn (older YA)
Devil's Kiss, Sarwat Chadda
Annals of the Western Shore series, Ursula K. LeGuin
The Two Pearls of Wisdom (or Dragoneye Reborn as it's known in the US), Alison Goodman
City of the Beasts, Isabel Allende
Blood Ninja, Nick Lake
Magic under Glass, Jaqueline Dolamore
Stormwitch, Susan Vaught
47, Walter Mosley
Pemba's Song, Marilyn Nelson and Tonya C. Hegamin
Rogelia's House of Magic, Jamie Martinez Wood
Haroun and the Sea of Stories, Salman Rushdie
The Icarus Girl, Helen Oyeyemi
Invisible Touch, Kelly Parra
Soul Enchilada, David Macinnis Gill
Eon: Dragoneye Reborn, Alison Goodman
The Comet's Curse: A Galahad Book, Dom Testa
Bleeding Violet, Dia Reeves
Liar, Justine Larbalestier
Meridian, Amber Kizer
Ruined, Paula Morris
Young Adult Science Fiction
The Ear, the Eye, and the Arm, Nancy Farmer
The House of the Scorpion, Nancy Farmer
A Wizard of Earthsea, Ursula K. Leguin
The Shadow Speaker, Nnedi Okorafor-Mbachu
Extras, Scott Westerfeld
Black Hole Sun, David Macinnis Gill
Unsure of whether these books are MG or YA (have not read yet, pulled titles from Shweta Narayan and The Happy Nappy Bookseller's lists. Can someone give me a head's-up what categories they fit in?

A Posse of Princesses Sherwood Smith. (Is this YA?)
The Dragon Keeper, Carole Wilkinson
A Girl Named Disaster, Nancy Farmer
The Wizard series, Diane Duane
The Green Boy, Susan Cooper
The Magical Adventures of Pretty Pearl, Virginia Hamilton
Willie Bea and the Time the Martians Landed, Virginia Hamilton
The Night Wanderer, Drew Hayden Taylor
Dread Locks (Dark Fusion), Neal Shusterman
Please feel free to continue to leave other suggestions in the comments.