I often discuss diverse books with people, especially white people, who need the "101"—parents and other people who love children who want to give them good diverse books but don't know where to start. And that's GREAT! Saying, "I don't know what I don't know" is the perfect place to start when you're looking to bring diverse books into your home or classroom, because that means you're ready to learn.

This is a general post collecting some of the things I've been telling people lately, so I can point them to it, especially as you start shopping for holiday gift-giving.
First of all: buy my books! Because that's what I do: publish diverse middle grade and YA books.
And next, be aware of older, problematic books that perpetuate racist stereotypes. (For example, did you know that The Education of Little Tree was written by a member of the KKK? Stop sharing that book with kids! Study it if you must with the real history behind it, but too few people actually know the true history behind it and think it's a "sweet story.") Some resources from children's literature scholars and reviewers to help you evaluate texts:
These resources also review books that have quality representation and are a great source to find new books.
Looking for book lists broken down by age group, topic, genre, and more? Check out the Lee & Low Pinterest board–we've got more than 100 boards dedicated to all sorts of topics, including anti-racism, #WeNeedDiverseBooks, teachers and educators, getting published, and book lists galore.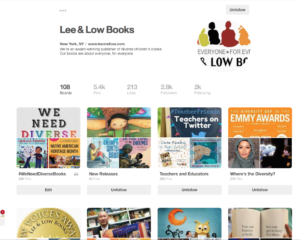 But most importantly, what I want my friends to remember when they're thinking about buying diverse books for their kids this holiday season: remember that authors of color are the least represented, and often get the least amount of publicity for their books. You have to look for them, but they're well worth looking for. If you want to introduce your children to authentic voices from communities different from your own, look at the authors of the books you're buying. Are they writing from their own experience? (Inasmuch as that experience pertains to racism, sexism, ablism, Islamophobia, etc., not to whether or not they've lived in space or used magic…) Look for ways to support authors of color.
This is not to say to shun white authors, who often do a very good job at writing about characters of color, but just asking people who are often in white-centric communities to thoughtfully evaluate the voices getting the most time and attention in their home or classroom, and look for ways to be more inclusive. Often for white people that means actively seeking out authors of color, because we're rarely going to be running into them naturally in our often-segregated circles.
This post is a work in progress and I'll add resources to it as I have time or discover new resources.
Save
Save
Save