I have just weathered the hurricane in relative style—thankfully, my neighborhood came out relatively unscathed compared to other places. I still have power and internet (mostly, though some flickers), and I live on high ground. A friend and I just took a walk around the neighborhood, and the worst most of us got here were some downed trees and branches and some business canopies half-torn off. Down by the river, it's still high, but thankfully in this neighborhood there's not much down by the river except a park.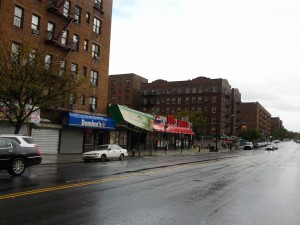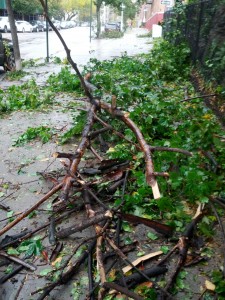 Further downtown it's not such a bright tale, especially down by the waterfront here in Manhattan and in Brooklyn and Queens, and particularly over in New Jersey, which seemed to have gotten the brunt of it. From the press conference I just saw with Greg Christie, it's going to be a while for New Jersey to really recover from this. The word "unprecedented" keeps coming up—this was a storm like no other on record in this area. It looked like a Cat 1, but the winds and the storm surge acted more like a Cat 3 or 4, from what I hear.
What that means for the New Visions contest, since I've gotten a lot of worried emails in the last couple of days from people worried about their entry either being received on time, or people in the path of the storm who haven't been able to get out to mail their entries:
The deadline is a postmark deadline of Oct. 31, not a receipt deadline. So as long as you're able to mail your entry by tomorrow, you'll be fine.
However, particularly for those in the path of the storm, I understand that you've got a lot more on your mind right now than writing, and we don't know when full services like the subway and the post offices will be back to normal. For today, I'm just going to encourage those of you who can to mail your entries by tomorrow. Tomorrow we'll probably know a lot more about the assessments of damage and timelines and such, and I'll know whether I can even get in to the office this week. So tomorrow once we know a little more, I'll announce if we might be able to allow a small extension, particularly for those in the path of the storm, in the greater New York/New Jersey area particularly. I don't know yet, but I wanted to reassure you that we understand and sympathize, as we're dealing with this storm as well.
For now, if you can make it to the post office by tomorrow, just go ahead and send your entry that way. No need for any special delivery services like FedEx or UPS—in this situation, it will be *harder* for them because they don't know when they'll be able to get back into New York City, so from what I understand they're not taking packages. The post office will go ahead and take your package, and they will deliver it when they can. As long as the postmark is Oct. 31 or earlier, you're fine.
Thanks for your patience as we figure out what's going on in the aftermath of this storm.