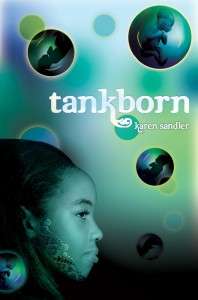 If you haven't yet tried out Tankborn, now's the time! The e-book of the first book in the series is now on sale at Amazon and Barnes & Noble for only $1.99! Check out all the great things people had to say about it:
"Tankborn is a highly recommended, thought-provoking YA novel from a new imprint dedicated to diversity."—SF Signal
"Advanced genetic engineering and upsettingly plausible caste oppression keep pages turning in this futuristic science fiction tale… A good option for science-fiction fans interested in genetic engineering, rebellion and class issues."—Kirkus Reviews
"Read this book and be changed."—Mette Ivie Harrison
"Look, nothing I say will convince you as fully as reading this that the novel is worthy of your time. So, go on already!"—Finding Wonderland
If you've already read Tankborn and didn't realize that the sequel, Awakening, was out yet, or if you were holding out for some reason, you're in luck, as well. Awakening is only $4.99 for a limited time in e-book at Amazon and Barnes & Noble as well.
Please share this news on to family and friends!