Will you be at ALA in Anaheim? So will Guadalupe Garcia McCall, author of Summer of the Mariposas!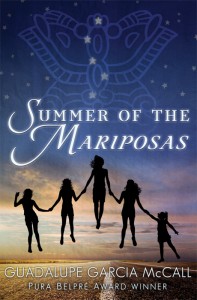 Guadalupe will be there to celebrate her first book, Under the Mesquite, and its win of the Pura Belpre Author Award, but she'll also be signing ARCs of Mariposas, so be sure to come by the booth. You can find the schedule on the Lee & Low blog.
Several of the contributors to Diverse Energies will also be at ALA, and though they don't have a specific signing time, they will be dropping in to sign select copies of the book. Perhaps you might be the lucky one to win a copy in a drawing. And if you just want to read some awesome stories, signed or not, from Ursula K. Le Guin, Paolo Bacigalupi, Daniel H. Wilson, Cindy Pon, Malinda Lo, Greg van Eekhout, and more, make sure to stop by and take a look.
And whether or not you're off to California this weekend, if you're a reviewer or a librarian and on NetGalley (and if you're one of those and NOT on NetGalley, check it out) our fall books are now available for you to request for review. Take a look!