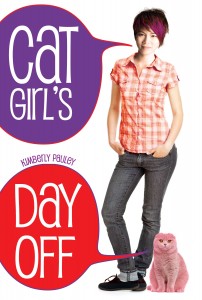 Like I said yesterday, people are loving our spring books just as much as they loved those we published in the fall (for which we're still getting reviews in–maybe I should do another roundup of those).
Here's what people are saying about Kimberly Pauley's Cat Girl's Day Off:
Booklist:
In a multicultural family bestowed with supernatural abilities, such as mind reading and laser vision, Nat Ng believes her ability to communicate with cats is more of an embarrassment than a special talent. Only her family and her two best friends, exuberant Oscar and drop-dead gorgeous Melly, know her secret. When a production crew filming a remake of Ferris Bueller's Day Off comes to the teens' Chicago high school, Nat reluctantly agrees to join her friends as an extra. Nat might believe that her talent is unexceptional, but cat-loving readers will thoroughly enjoy where her ability leads her as she tours through the same Chicago landmarks seen in Ferris Bueller. This title has the light, buoyant humor of a Meg Cabot book, with the same blend of superpowers and high-school life that won Pauley many fans with Sucks to Be Me (2008). And the cats! Helping, hindering, sniffing out bad guys, sneering at good guys, the cats shamelessly rule.
Publishers Weekly (full review):
Pauley (Still Sucks to Be Me) offers amusing insights into the minds of cats, snappy dialogue, and a fast-paced plot. Readers should easily relate to Nat, and cat-lovers in particular will find a lot to enjoy in this romp.
Kirkus Reviews (full review):

. . . Since there's no one else ready and able to rescue Easton, Nat and her pair of slightly off-beat friends take on the job. This leads to one perilous situation after another, many of them featuring the italicized thoughts—appropriately laconic and snarky—of the various cats that Nat seeks out for help. Her bumpy budding romance with classmate Ian adds an amusing love interest to the mix. The fantasy elements, solidly grounded in an otherwise real world, seem ever-so-believable. Lively conversation, strong characterizations and a fast pace make this a breezy read. The funny feline thoughts are catnip for the audience.

A worthwhile adventure and an easy sell for feline fanciers who already know what their pets are saying.
School Library Journal (if you are a subscriber, you can access the full review on their site; otherwise, look in the April 2012 print edition):
Pauley's homage to Chicago and her favorite teen movie is entertaining, hilarious, and exceptionally creative. Populated with wonderfully eccentric and endearing characters, this lighthearted comedy will be an instant hit, especially among teen and tween girls. One thing is for certain—readers will never again look at their feline friends in the same way.
Charlotte's Library (full review):
Cat Girl's Day Off is fast and funny, with the spot-on cat comments that liberally sprinkle the pages being especially entertaining. Though Natalie is a well-developed character with genuine teenager-ish concerns, and people's lives actually are in danger, it's not a book that takes itself too seriously, which makes it a very pleasant break from reality. . . .

Cat Girl's Day Off is ostensibly YA—it's a high school book. But it is one that a middle school kid could read without blushing—no sex, and only a bit of cat-fighty violence. In fact, it's a perfect one for the eleven or twelve year old cat-loving girl whose not quite ready for the steamy romance of most YA paranormal—this, instead, is a light-hearted mystery with a paranormal premise.
The Happy Nappy Bookseller (full review):
This was fun, silly and easy to get into. I laughed out loud more then once and the mystery aspect of the storyline is handled very well. Some of the best parts are Natalie's conversations with the cats. Natalie works well with her friends, but the cats are the stars.
Finding Wonderland (full review):
This book is an airy confection filled with hijinks, shady characters, star-struck fanboys and a lot of running around. I found some of the characters slightly over-the-top, and the real-life celebrity parallels were amusing, but this novel has a lot of glitter going for it—and a lot of heart. . . .

Take one missing celebrity blogger—add a stolen pink-dyed cat, a filming on a high school campus, a real catfight, a cat-shelter break-in, Wrigley Field, and whole lot of snarky backtalk from cats. Mix in a breezy fashion to create an absolutely nutty novel which reminds you to never, never, never take suggestions from your feline pet.
Francesca at YA Books Central (full review):
Three quirky friends, a nice, smart love interest, the making of a movie about a teen who decides to recreate Ferris Bueller's Day Off… all that plus a shape-shifting villain and a cat with attitude? Seriously. It was like I had died and gone to YA heaven. In Chicago. With lots of cats. . . .

The characters were similarly both familiar and surprising. Nat on the one hand fits the mold of the odd-girl heroine, but she never became a stock character. She felt powerfully real – so real I truly cared what happened between her and (*sigh*) Ian, and I really wanted her family to see her in a new light. Oscar and Mellie likewise – in the hands of a lesser writer, they both could have been clichés, but Pauley infused them with full, rich lives and selves. I ended up wishing they were MY best friends, and that I didn't have to leave them behind when I turned the last page. The urban-fantasy element—that some humans have Talents (not superpowers, Nat's mother insists)—was utterly believable, and never needed dull exposition to justify its existence.

The (dare I say zany?) madcap adventures in Kimberly Pauley's truly delightful new book are Hughes-ish in the best possible way, happy ending and all. I can't imagine finding a better beach book this year, but if I were you, I wouldn't wait until summer to read it.
Kim at YA Books Central (full review):
This is one hilarious, fun romp that made me want MORE! . . . CAT GIRL'S DAY OFF is a refreshing YA in a sea of dark paranormals out there. . . . A total must read!
Alex Flinn, author of Beastly and Bewitching:
Cat Girl's Day Off was such a fun, adventurous romp! I couldn't stop reading it. . . with my cat.
Ingrid King, The Conscious Cat (full review):
The book is absolutely delightful. Written in a lively, breezy, conversational style, told from the extremely likeable protagonists perspective, the story takes the reader on a wild ride involving a kidnapped celebrity blogger, a pink cat, a movie set, and a shape-shifting villain. You'll have to suspend your sense of belief a little, but that's actually what makes the book such a fun read. It's pure entertainment, and it features plenty of cats who all have a lot to say.

And you'll just have to read the book yourself to find out why the cat on the cover is pink.
Sarah Beth Durst, author of Drink Slay Love and Ice:
It was deliciously adorable! I now desperately want to be able to talk to cats. Thanks for the great read!
Saundra Mitchell, author of The Vespertine:
When I need to read something smart and funny and completely original, I turn to Kimberly Pauley. Cat Girl's Day Off is a manic, madcap adventure that satisfies from the first page to the last.
A Nook Full of Books (full review):
I can't stress enough how much I loved this book! It made me laugh a lot, it's got a hilarious, easy to read plot and absolutely adorable character. Definitely one of my favorite reads this year!
The Hate-Mongering Tart (full review):
Q: How much fun was Kimberly Pauley's latest novel?
A: A heck of a lot!  CAT GIRL'S DAY OFF is one hundred percent ridiculous, in the best way possible!
. . . This fun, exciting romp of a book is in part love letter to Chicago, and very much in the spirit of John Hughes.  With all its goofiness, the characters are real and compelling, and totally loveable.  Even better? The villains are just as fun to read.  I'm looking forward to future novels for Kimberly Pauley — I'm sure they'll be just as refreshing as CAT GIRL.