Tu's spring books are getting great reviews! Here's what people are saying about Vodnik.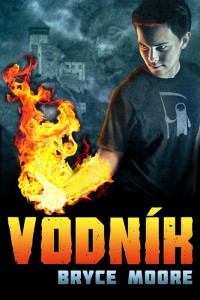 Kirkus Reviews (full review):

An American teen encounters monsters both fantastical and human in the land of his birth.

After a fire destroys their home, Tomas and his parents move to Slovakia, a country Tomas hasn't seen since he was 5 years old. He's unconcerned about the move; scarred from a childhood fire and painfully shy, Tomas hasn't got any friends to leave behind. Trencín, at first, seems wonderful. There's a truly fabulous castle, and he's made his first real friend: his cousin Katka. But Katka is dangerously ill, and Tomas' attempts to help are complicated by his first experiences with racism. In the United States, Tomas is white; in Slovakia, the olive skin he inherited from his Roma grandfather marks him as a Gypsy and a valid target for abuse. Nothing can help Tomas—and more importantly, Katka—except the mythical creatures Tomas started seeing almost as soon as he landed in Slovakia. It's unclear whether he can trust the watery vodník or the fire víla, but they both promised to help. A first encounter with racism blends well with a compelling fantasy adventure . . . .

A shy boy blossoms in this surprisingly witty debut.
Dan Wells, author of I Am Not a Serial Killer and Partials (full review):

1) Vodník has a unique and quirky group of monsters, and a "magic system" you haven't seen anywhere else. . . .

2) Vodník is about a clash of cultures. I've never lived in Slovakia, but I have lived outside of the US, and Vodník captures perfectly the stages of culture shock, fascination, acceptance, and love that comes from discovering a new country. . . .

3) Vodník takes this culture clash, and the classic YA search for identity, and ramps them up with a full-on exploration of racism. The main character has some Roma (gypsy) heritage, which never mattered in the US, but becomes a very big deal in Slovakia, and this out-of-nowhere plunge into racism really opens his (and the readers') eyes. . . .

4) Vodník is actually funny. I've read so much YA that thinks it's funny but isn't, and even worse, YA that tries to use pop culture references and fails horribly. Nothing's worse than an author trying way too hard to seem clever and cool. The author of Vodník pulls it off almost effortlessly.

I loved Vodník, honestly much more than I expected to. It's well-written, unique, and clever. It's a breath of fresh air in a very popular genre, and I can't wait to see what Moore gives us next.
Martin G., Sneak Peek Reviewers Club at School Library Journal:
Bryce Moore has done something most authors can't do; he has created a story with a completely different type of mythology. . . . The originality of the myths is a good change of pace from Greek or Roman myths. The story reminded me of how there are still new voices in writing. This was no "boy meets girl over summer break" or "humans dating vampires" story. The author has created a great new type of mystery and legend, and I'm one reader who can't wait to see if this story continues to develop. I'd be proud to have this book in my personal library.
Brandon Sanderson, #1 New York Times best-selling author of the Mistborn series, Warbreaker, Elantris, and co-author of A Memory of Light by Robert Jordan:
Vodník is compelling, interesting, and darkly humorous. I think you'll love it.
Finding Wonderland (full review):
Now, THIS is what I'm talking about. No werewolves. No vampires. No British isles fairytale constructs. No Arthurian legends, creaky with age, being unfolded and poorly cleansed of the dust of ages for the nth, nth, nth time. No. This is neither the U.S. nor the UK, but Trenčín, [Slovakia], baby.

And it's got big, sharp teeth.

Or, you know, big, drown-y-and-then-throws-you-in-a-teacup hands. Whatev. Point: it's vicious and dark and dangerous…and completely amicable, in a "just doing my job" kind of way. It's also full of The Crazy, and funny. This is a Tu-worthy book, indeed – another hit out of the ballpark for Lee & Low's amazing little imprint that could.
Karen Sandler, author of Tankborn:
The best part about Vodnik is that it's set within a country and culture I've never read about before. There is much cool new (to me) folklore in the story, far beyond the typical vampire/werewolf/shapeshifter memes. The story is fast-paced, the humor is laugh-out-loud funny, and it's just creepy enough that at least one night I had some pretty whacked-out dreams as a consequence of reading it so late. If you want an exciting, adventurous book that's completely out of the ordinary, you gotta read this book.
Valerie Stein, Fabulous Fiber (full review):
I was hesitant to try this one, afraid it might just be a vampire book in disguise. What a dark and delightful surprise it was to step between these pages, and to follow Tomas, our mysterious hero, on a series of adventures we never would have expected. Tomas is Romany, and as a storyteller, he does a pretty fine job. Because he's our narrator, it takes a while to understand that he has survived a drowning. And that it left him with terrible burn scars . . . That's where the story starts to get interesting. It almost feels as if this contrast, this dichotomy, echoes throughout the book in other polar opposites: water vs. fire, life vs. death, good vs. evil. But not vampires. Thankfully, not vampires. There is wonderful characterization, wonderful dialogue which feels true, whether it's Tomas and his cousin, or Tomas and the mythological beings who turn up in the story too. The blend of contemporary and ancient is skillful, and one is drawn into Tomas' reality, as different from normal as could be. Add to this engaging story the layers and undercurrent of tensions between the Romany people and the Slovaks who share Tomas' new home in Slovakia, and you have a real winner. This is a great MG and YA offering with twists to keep it fresh.
Just a Guy Who Reads Books (full review):
Moore gleefully and delightfully knits the real world and the fantasy world together. His characters crackle and fizz, and are exactly the right level of snarky. Moore prefaces each chapter with a snippet from a guide book for "deaths" – the folks whose job it is to collect souls – which are fantastically amusing, and sometimes even relevant. The story line is relatively simple, but there's plenty of action, and enough twists that predictions are difficult. This was an entirely enjoyable read, an amazing first novel (well, second, but perhaps the first doesn't count?), and you should go and read it. Right now! Your life may depend on it . . .
Elitist Book Reviews (full review):
VODNIK is a YA novel that revolves around Slovakian folklore, and this angle is what makes Moore's novel such a compelling read. It's so fresh and different. These mythological creatures Moore has brought to life on the pages are so different from what I normally read in folklore-centric novels. It's hard for me to do anything but applaud. Seriously. The act discovery that Tomas goes though—both external and internal—makes VODNIK have a more broad appeal that most basic YA novels.
Beyond Dragons and Wizards (full review):
Vodnik smacked me in my face and showed me that true wit, sarcasm, earnest story-telling, multi-layered plotting, grit, and fairy tales can all inhabit the same book. . . .
Sony the Book Lover (full review):
I enjoyed Vodnik immensely the bridge between the old world and new set against the backdrop of a medieval castle. I liked the conflict "the [bigot] gang" added, after Tomas has a horrible encounter with them. That made me so angry, he's forced to learn to protect himself thus becoming stronger, and has the has the added benefit of making Tomas better equipped to face the Vodnik. I thought the story was original, the setting was amazingly quaint and old world. I was introduced to Slovakian legends which I thought was cool.
So Many Books, So Little Time (full review):
Vodnik is an excellent read for those who are looking for fantasy with a spark of something new. I had a lot of fun reading a mythology less common than the usual fantasy/urban fantasy fare, and that newness made up for the slight pacing and predictability issues that snuck in and out of the chapters. Tomas is a reluctant hero that many a young reader will be able to relate to- and he deals with some hard issues like racial prejudice and bullying that are important for folks to read and think about. It is a book about growing up, as many young adult books are, but it avoids being preachy and remains pleasant. It is a book about family and love and everything that draws one person to another.

If you are looking for an enjoyable read, give Vodnik a shot. You won't look at a tea cup the same way again.