And I so totally agree. (Here's the cat's review.)
Hollywood, are you listening? Dani Alexis also has some pithy thoughts on Cat Girl's subtle commentary on celebrity culture:
Behind the on-screen action of Cat Girl's Day Off is a well-played critique of celebrity movie teen squee culture. Without giving too much away, I'll say that this book manages to look twice at things like celebrity bloggers, paparazzi mobs, celebrity privacy and lack thereof, our habits of overlooking bad behavior in celebrities we'd never overlook in ordinary folks, and more, without ever once becoming preachy, heavy-handed, or tiresome. It does a particularly good job of exploring teen celebrity movie squee culture. Which would be the lifeblood of a movie version, of course, but which would also ask some good questions about it. And unlike The Hunger Games, it doesn't require 22 teenagers to die horribly in order to bring the subject up.
I also just realized I haven't yet posted a real post saying "GO BUY MY BOOKS" for this spring, though in all my linkage of reviews and contests on Twitter and Facebook might imply otherwise. For any of you who are not following me at either of those locations (and for those of you who are, who are meaning to but haven't quite gotten around to it), now's your chance!
For you e-book aficionados, we've got convenience aplenty for you! CAT GIRL'S DAY OFF and VODNIK are both available on Kindle, nook, and Google Books! (We're still working on iBooks, which takes much longer than the others.) Links below (also note that Google Books has Vodnik and Cat Girl on sale for $7.99, a $2 discount!):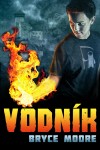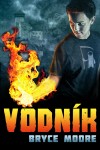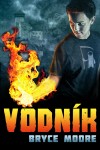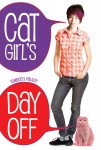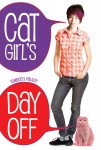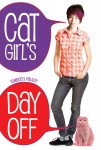 (Sorry for the formatting issues—Wordpress seems to be auto-deleting any returns I put in, and won't put the pictures where I want them on the page. It's never done this before. Maybe the captions are interfering with the coding?)
And for you fans of traditional hardcover, what we'd really love is if you were to go to your local bookseller and ask them to order it. Barnes & Noble will gladly order it in for you, and the more people who ask for it ordered in, the more they'll pay attention. You know who especially pays attention? Independent booksellers. Let's show them that we as readers value diversity on their shelves! Want reviews to show how great these books are? Share the long list of great reviews at the bottom of the book's info page on our website (Vodnik) (Cat Girl's Day Off).
If you'd prefer to order online, you can order directly from Lee & Low, or through a wide variety of your favorite online booksellers. Links below to a wide variety, but if you have a favorite bookseller who's not linked here I'm sure you'll be able to find it. Note that BookDepository.com has free shipping for international readers.