Life, the Universe, and Everything is NEXT WEEK! That means I'll be seeing many of you then. If you're unable to attend LTUE, though, and are in the area, you should check out this event. It's free for any who'd like to attend—you don't have to be a student. And if you are going to LTUE, come anyway! Karen won't be on any panels officially, so this is your chance to ask her questions and perhaps even get a book signed after the program.
So You Want to Work in Publishing For Young Readers?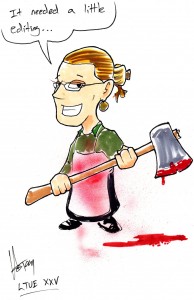 If you are interested in working as an author, an illustrator, an editor, or in any other position in the publishing for young readers market, you are invited to come listen to, discuss with, and learn from Stacy Whitman, on February 8th, from 5:10-7:40 pm. in room 251 Tanner Bldg at BYU.
Stacy Whitman is the editorial director of Tu Books, an imprint of Lee & Low Books. In 2009 while living in Orem, Utah, she founded a small press named Tu Publishing, dedicated to publishing multicultural fantasy and science fiction for children and young adults, which was acquired by Lee & Low Books of New York City and became Tu Books. The imprint launched fall 2011 with Tankborn, Wolf Mark, and Galaxy Games: The Challengers, and will follow up with BYU graduate Bryce Moore's book this spring, Vodnik. Whitman holds a master's degree in children's literature from Simmons College. Learn more about Tu, including submissions guidelines and links to buy books, at http://www.leeandlow.com/p/tu.mhtml. Stacy's blog of writing and publishing advice can be found at www.stacylwhitman.com.
Stacy's presentation will be a wide open discussion on the publishing business, including, but not limited to the following topics:
Preparing for a career in publishing
What does an editor do all day?
Working with authors and art directors
Advice for writers and illustrators on getting published
Diversity in publishing and books
Genre fiction and children's fiction
Stacy will be accompanied by author Karen Sandler.
Karen Sandler is the author of seventeen novels for adults, as well as several short stories and screenplays. Before becoming a full-time writer, she worked as a software engineer, including work on the space shuttle program and communications satellites. TANKBORN, published by Tu Books, is her first young adult science fiction novel. She lives in northern California with her husband, three cats, and an Andalusian/Morgan mare. For more information about Sandler, visit karensandler.net.