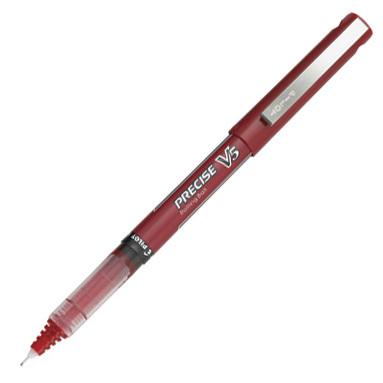 In a sentence: WHAT DID YOU DO TO MY PEN??
I loved the old Precise V5s. Almost every editor I know who I've ever talked pens with loves the Precise V5. It's got a fine enough tip to write between lines of text without smearing ink everywhere, and it was steady and sure.
And when I went back to the supply shelves today to find a new red pen, I certainly found a new pen, all right. Why in the world would anyone reinvent a pen that already works perfectly (besides, of course, a tiny little exploding problem)?
Looking at the new pen in comparison to an old one here on my desk, the construction feels cheaper. It doesn't have the heft to it that the previous version did, which I felt was balanced perfectly. It's more flimsy plastic, and it writes like one of those cheap ball-point pens that I avoid—you know, with a little wiggle feel to it, which kind of negates the whole point of the PRECISE pen.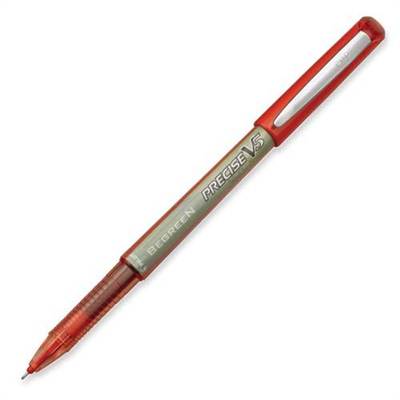 The new tip now scratches across the paper rather than gliding as the old pen used to. The ink and precision of what you write itself looks okay, but the process of writing isn't as comfortable as it used to be. The length and width physically seem to be similar, except that the nib of the new pen is shorter than the old one and I feel like I have to choke up (back?) on this pen to hold it in the same position as the old pen, yet that means holding more of the fat part of the pen, rather than the part that fits my hand. There seems to be more plastic, but maybe that's just a vibe I'm getting because the way the ink flows down into the nib is a straight tube rather than those weird layers of plastic (which would eventually explode in the most inconvenient way possible).
IF (and only IF) the changes mean fewer explode-o-pens in my purse/pocket/backpack/hand, I could probably get used to everything except the annoying scratch of the nib across the paper. The very tip of the nib where the ink comes out doesn't appear to the naked eye to be any different in design than the previous pen, so I'm unsure why it moves differently across the page.
I'll probably get used to it, if it means continuing to be able to have neat(er than my usual) handwriting when I edit. But I am a bit sad to see the old design go. Why mess with it?
ETA: Hm, now I'm confused. I went to the Pilot site, and now it seems that the V5s are V5/V7s? Can anyone tell me what's up with that?